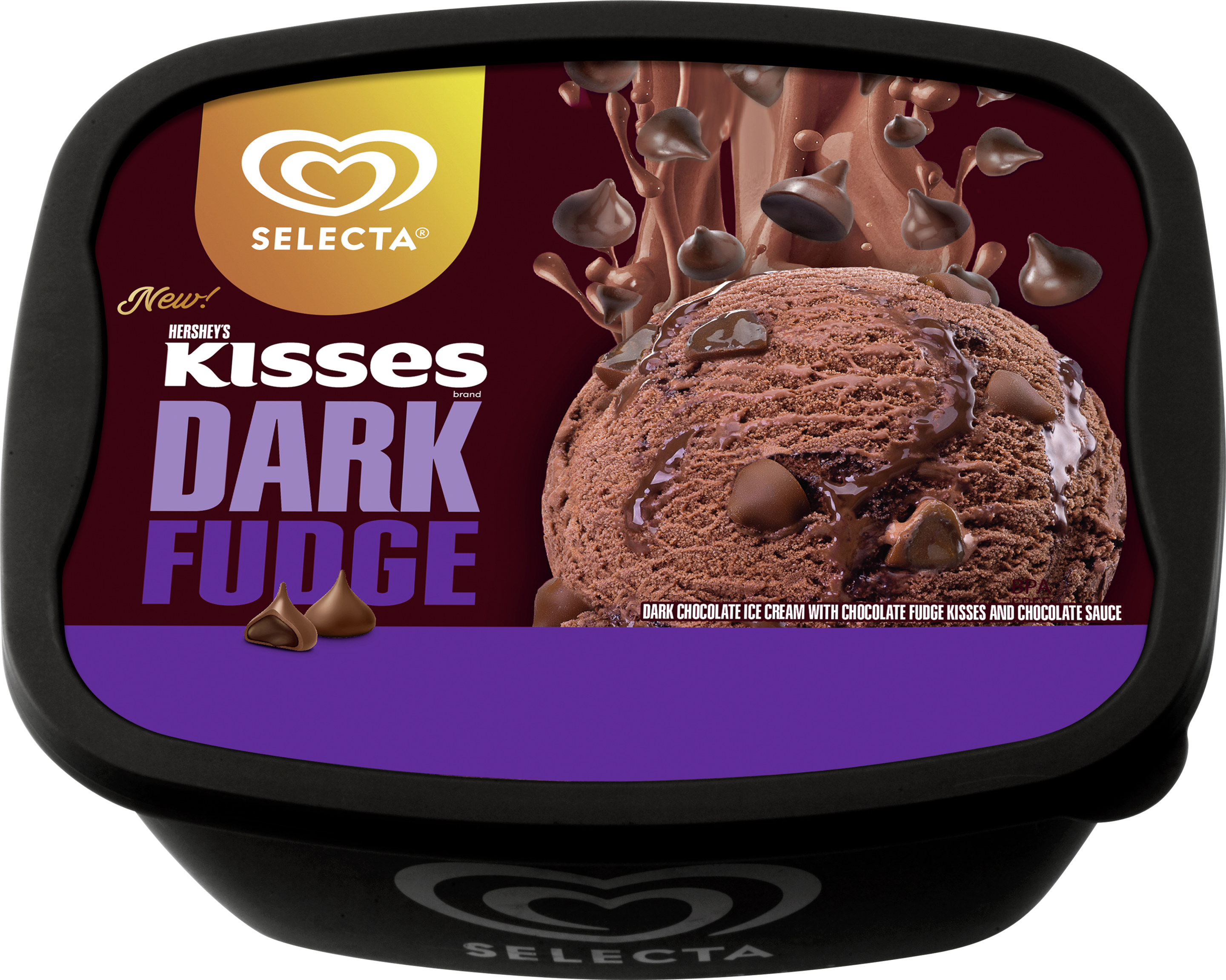 Selecta HERSHEY'S Mini Dark Fudge Kisses Ice Cream 
Dark chocolate ice cream with chocolate fudge Kisses and chocolate sauce. Just one way to sweeten up your day with Selecta HERSHEY'S: great flavors inspired by the fusion of your favorite chocolates and Selecta ice cream.

Ingredients

Nutritional Information
Ingredients: Common: Water, refined sugar, HERSHEY'S MINI KISSES Dark Fudge (chocolate, sugar, coconut oil, peanut oil, cocoa processed with alkali, milk, salt, cocoa, soy lecithin (emulsifier), and natural flavors) chocolate sauce (water, sugar, glucose syrup, cocoa powder, skimmed milk powder, artificial food flavors, and food stabilizers (carboxymethyl cellulose)), glucose syrup, palm oil, refined sugar, skimmed milk powder, modified starch, cocoa powder, buttermilk powder, whey powder, food stabilizers (locust bean gum, guar gum, carrageenan, and carboxymethyl cellulose) and emulsifiers (distilled mono and diglycerides), artificial food flavors, and artificial food colors FD&C Yellow #5 (Tartrazine), FD&C Yellow #6 (Sunset Yellow), FD&C Red #2 (Amaranth Red), and FD&C Blue #1 (Brilliant Blue). Contains milk, peanuts, soya, coconut and FD&C Yellow #5 (Tartrazine). May contain tree nuts, wheat, and eggs.
Serving size: 1.3L
Serving per container: 4.75
| | Per 100ml | Per 100g |
| --- | --- | --- |
| Energy | 100 kcal | |
| Fat | 4 g | |
| .....of which saturates | 2 g | |
| Salt | 45 mg | |
| Carbohydrates | 13 g | |
| .....of which sugars | 8 g | |
| Protein | 2 g | |