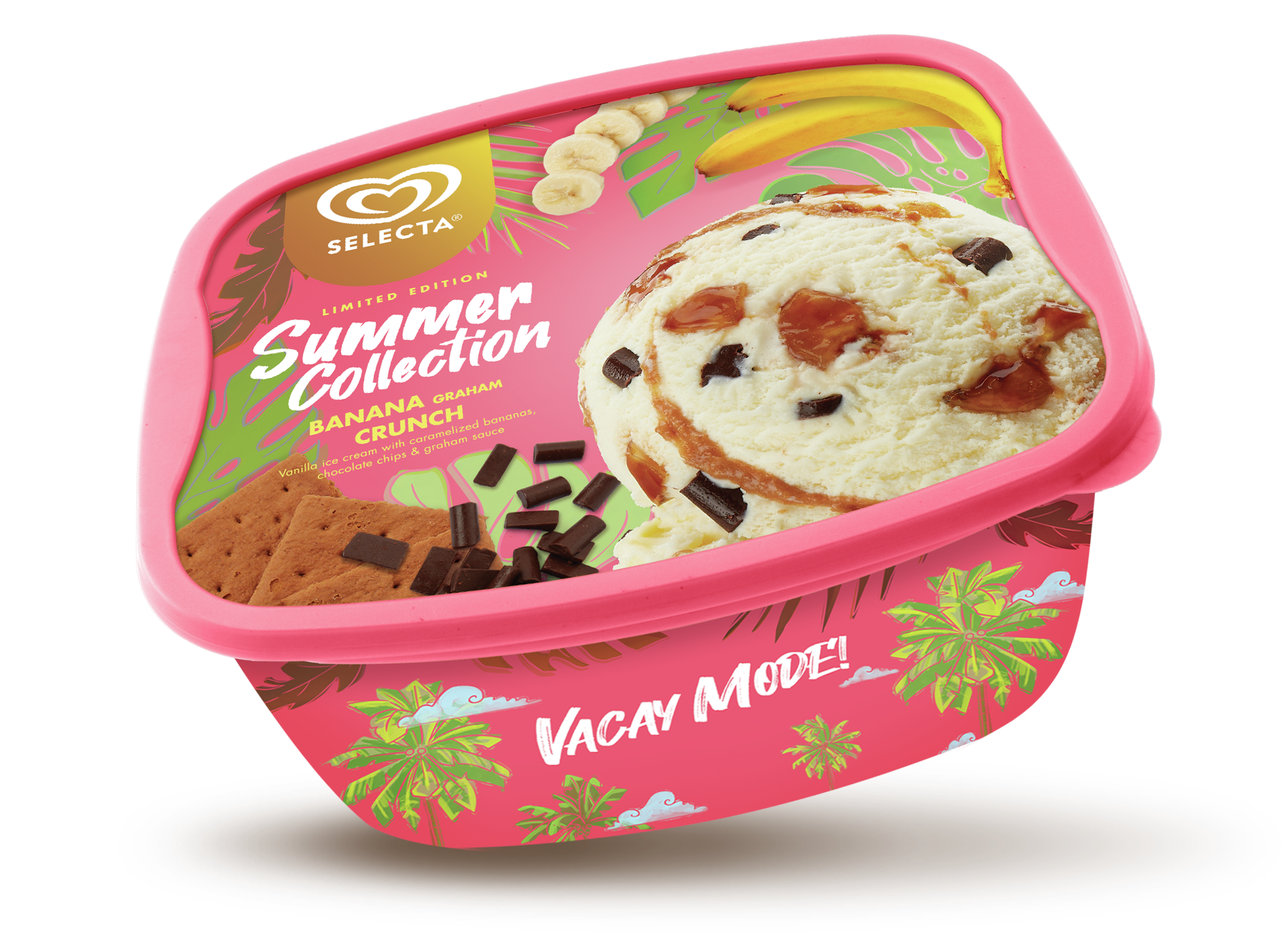 Selecta Supreme Banana Graham Crunch Ice Cream 
Selecta invites you on a flavor adventure with our Selecta Supreme Banana Graham Crunch Ice Cream. This masterpiece features a harmony of classic banana ice cream flavors, elevated by the addition of crunchy graham pieces and a heavenly graham variegate sauce that weaves through the ice cream. The journey through taste and texture is heightened by the inclusion of chocolate chips that melt effortlessly on the tongue. This supreme banana offering is a celebration in a cup, crafted for those who cherish the combination of fruit and crunch in their dessert. Let each spoonful of Selecta's banana graham delight take you to a place of supreme satisfaction.

Ingredients

Nutritional Information
Ingredients: Water, caramelized banana, graham sauce (graham, sugar, coconut oil, modified starch, and soya lecithin), glucose, refined sugar, palm oil, glucose, skimmed milk powder, buttermilk powder, chocolate chips (cocoa and soya lecitin), whey powder, modified starch, food stabilizers and emulsifiers (distilled mono and diglycerides (E471), locust bean gum (E410), guar gum (E412), and carrageenan (E407)), artificial food flavor (vanilla), and artificial colors (FD&C Yellow #5 (Tartrazine) and FD&C Yellow #6 (Sunset Yellow)).Contains milk, coconut, soya, and FD&C Yellow #5 (Tartrazine). May contain eggs , tree nuts and peanuts.
Serving size: 100ML
Serving per container: 13
| | Per 100ml | Per 100g |
| --- | --- | --- |
| Energy | 130 kcal | |
| Fat | 6 g | |
| .....of which saturates | 6 g | |
| Salt | 90 mg | |
| Carbohydrates | 19 g | |
| .....of which sugars | 13 g | |
| Protein | 2 g | |