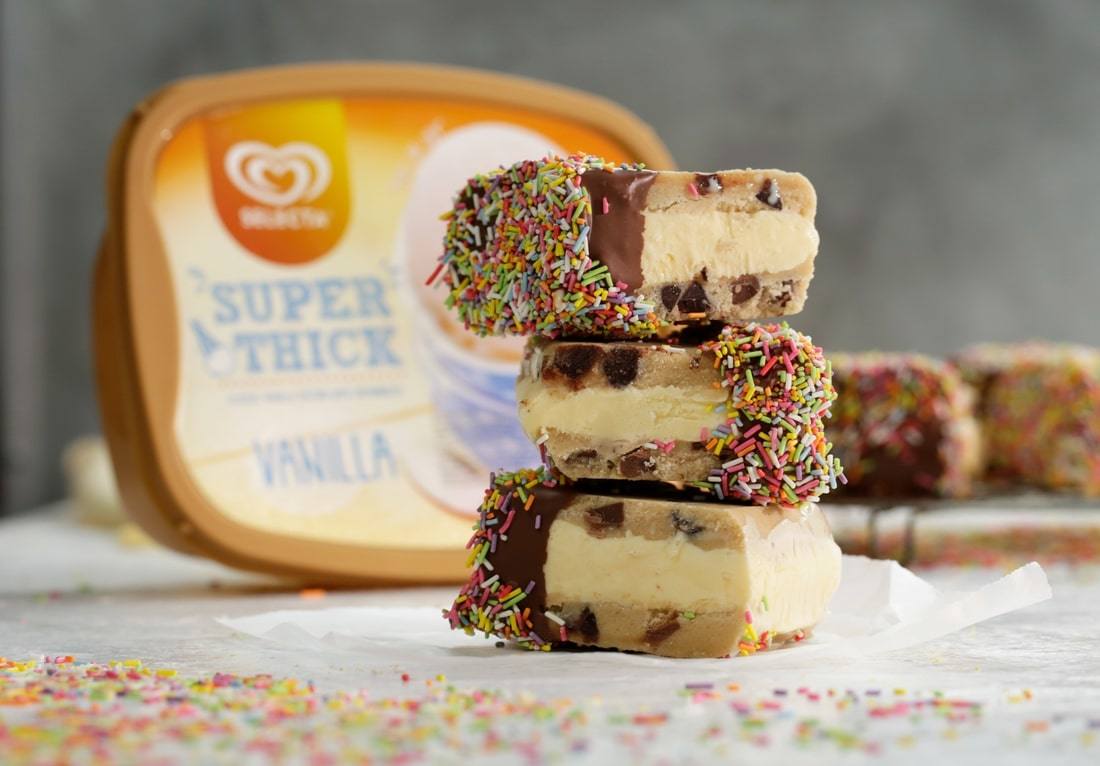 No-Bake Cookie Dough Ice Cream Sandwiches
Try out our No-Bake Cookie Dough Ice Cream Sandwiches!

Ingredients
1 1/4 cup organic unsalted butter
3/4 cup white sugar
3/4 cup soft brown sugar
1 teaspoon vanilla extract
1/4 teaspoon salt
2 1/4 cup all purpose flour
1 1/4 cup milk chocolate chips
4 cup selecta classic super thick vanilla ice cream
2 1/4 cup chocolate melted
snowflake sprinkles
How to make
Cream the butter, sugars, vanilla and salt together in a large bowl until light and fluffy. Add the flour, then fold in the chocolate chips or chopped chocolate. Divide the mixture in two.

Line a 8in x 8in square tin with cling film or baking/wax paper, leaving a small overhang and press one half of the cookie dough into the tin to cover the base. Remove the square of cookie dough and place into the fridge then line the tin once more with cling film, this time leaving a slightly larger overhang.

Press the second half of the cookie dough into the bottom of the tin and flatten with your hands. Scoop the ice cream on top of the cookie base and smooth out with the back of a spoon or palette knife, until smooth and flat. Chill in the fridge for at least 20 minutes.

Remove the cookie square from the fridge and place on top of the ice cream. Press down slightly and then place the whole thing into the freezer for at least 4 hours, or until frozen.

When ready to serve, remove the baking tin and turn the ice cream sandwich out onto a chopping board. Remove the cling film and with a hot blade, slice the sandwich into 9 equal squares. You can serve the sandwich at this point if you wish.

If using sprinkles and chocolate melt: dip each square into the melted milk chocolate, covering half of the sandwich, and then decorate with your choice of sprinkles—try to be quick at this point as the chocolate will set fairly quickly on the frozen sandwich. Serve straight away or place back into the freezer to serve later.
Delicious Recipes
Melt-in-the-mouth choco lava cake gets even better with Selecta Super Thick ice cream. You can't go wrong with this delightful treat: choco lava cake A la mode!

2

people

Easy

5 min

0 min

Try our Ice Cream Donut!

2

people

Easy

5 min

0 min

Treat yourself to a mouthwatering cookie ice cream sandwich with the creamy goodness of Selecta Classic Super Thick Vanilla ice cream.

2

people

Easy

5 min

0 min
servings

people

difficulty

prepTime

cookTime