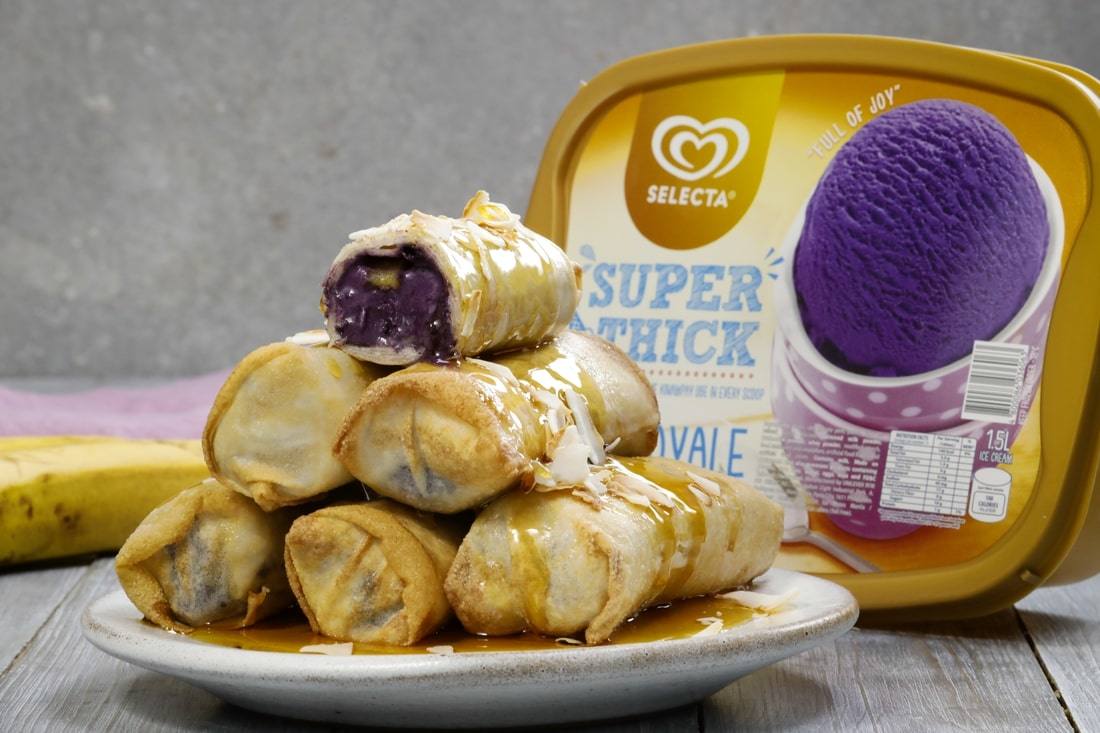 Satisfy your sweet cravings with crunchy and tasty turon, oozing with the richness of native Kinampay Ube, thanks to Selecta Super Thick Classic Ube Royale!

Ingredients
1 sliced banana
2 tablespoon organic desiccated coconut
2 teaspoons brown sugar
6 scoops selecta super thick classic ube royale
12 pieces turon wrapper
24 pieces jackfruit thinly sliced
1 teaspoon icing sugar
1 tablespoon flour
1 tablespoon water caramel syrup
cooking oil
How to make
In a bowl, mix the sliced banana / saba, desiccated coconut, and brown sugar together.

To enjoy the richness of native Kinampay Ube, add six scoops of Selecta Super Thick Classic Ube Royale. Once completely mixed, you can now freeze the mixture overnight.

Once completely frozen, slice the ice cream into 12 rectangles.

Get one slice of frozen ube and place two slices of jackfruit on top of it. Place these onto the bottom third of a turon wrapper.

In a separate small bowl, mix the icing sugar, flour, and water. This will be used later to seal the turon wrapper.

Dip the pastry brush in the mixed ingredients from Step 5 and apply it in the corners of the turon wrapper. Fold the wrapper once, then fold the sides to enclose it and roll. Repeat to make 11 more pieces of turon.

Deep fry the turon in oil until almost completely golden brown. Add caramel syrup to serve.
Delicious Recipes
Refreshing Selecta Super Thick Mango ice cream upgrades your mango float into an irresistible freakshake, with whipped cream and graham crumbs to boot.

2

people

Easy

10 min

0 min

Treat yourself to a Mango Otap Float – a heavenly combination of crispy otap, luscious mango, and Selecta Super Thick Classic Vanilla. Pure comfort in a glass.

1

people

Easy

5 min

0 min
servings

people

difficulty

prepTime

cookTime