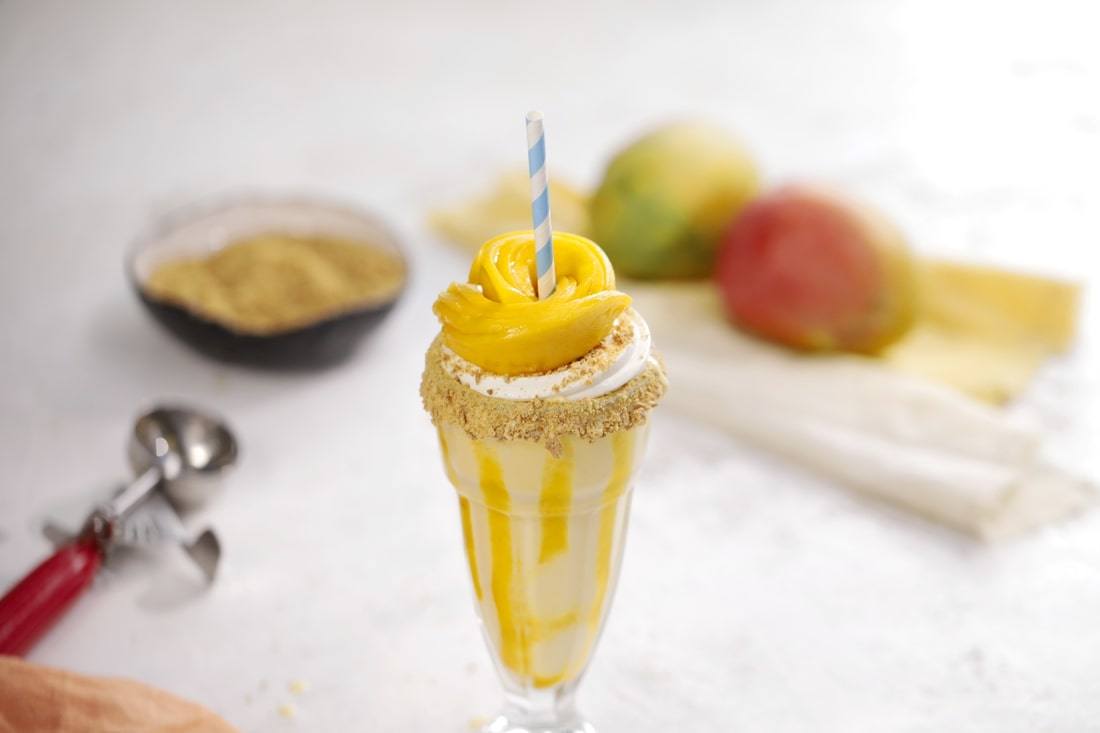 Mango Ice-Cream Freakshake
Refreshing Selecta Super Thick Mango ice cream upgrades your mango float into an irresistible freakshake, with whipped cream and graham crumbs to boot.

Ingredients
3 scoop selecta super thick classic mango ice cream
2/3 cup milk
2 mangoes chopped
1/3 cup white sugar
1/3 cup water
1/2 fresh lemon zest
1 mango sliced
1/2 cup instant whipping cream
graham crackers turn into crumbs
melted white chocolate
How to make
Place the milk and Selecta Super Thick Mango ice cream into a blender and blend until smooth and thickened.

Place the mango, sugar and water into a small saucepan and slowly bring to the boil. Simmer for 10 minutes then add the lime zest and stir through.

Remove from the heat and pass through a strainer to remove any fibers then set aside.

Place your peeled mango 'cheek' onto a chopping board and thinly slice. Fan out the mango slices so that they form a long line with the slices overlapping each other. Remove the small slices from the ends if you'd like: they can be difficult to shape. Starting from one end, curl the mango slices toward the center, continuing to curl the slices until you get a rose.

In a bowl, whip the chilled cream into soft peaks and place into a piping bag. Alternatively, you can used instant canned whipped cream and skip this step.

To assemble the freakshake, dip the rim of your glass into the melted white chocolate, then into the crushed graham crackers. Using a spoon, drizzle the mango syrup into the inside of your glass, and then pour your milkshake into the glass.

Spoon the whipped cream on top of the milkshake then place the mango rose on top of the cream. Sprinkle with the remaining graham crackers and place your straw into the milkshake, threading it through the inside of your mango rose.
Delicious Recipes
Treat yourself to a Mango Otap Float – a heavenly combination of crispy otap, luscious mango, and Selecta Super Thick Classic Vanilla. Pure comfort in a glass.

1

people

Easy

5 min

0 min

Satisfy your sweet cravings with crunchy and tasty turon, oozing with the richness of native Kinampay Ube, thanks to Selecta Super Thick Classic Ube Royale!

12

people

Medium

25 min

0 min
servings

people

difficulty

prepTime

cookTime